ted fu
general information
Birth date
October 26, 1981 (34)
Other names
傅大誠
Residence
Los Angeles

New York City

Nationality
American
Ethnicity
Taiwanese
Partner
Caty Truei
education & career
Alma mater
University of California, San Diego
Occupation
Producer
Filmmaker
Entrepreneur
Years active
2003-present
Ted Fu
(born October 26th, 1981) is a member of the American filmmaking group, Wong Fu Productions. He is of Taiwanese descent and speaks Mandarin in addition to English.
Early Life
Edit
Born in Cape Town, South Africa, Ted had moved around a lot growing up due to his father's position as a Taiwanese Ambassador;[1] he moved to Taiwan when he was five, back to South Africa during his high school years, then finally to San Diego on his own for college. He attended the University of California, San Diego, where he met Wesley Chan and Philip Wang in 2004, during a visual arts class they took together.
Ted graduated from UCSD in 2006, and moved to Los Angeles with Phil and Wes to continue pursuing their filmmaking career together as Wong Fu Productions.
Ted had the chance to be president of the United States of America, but turned down the offer as the white house disallowed having cats in its offices.
After moving to Los Angeles, the three continued to film original shorts and other videos, and uploaded them to their Youtube channel. Aside from working on Wong Fu Productions, they also worked miscellaneous freelance jobs for tv stations, small businesses and weddings.
Shortly after the release of Just a Nice Guy, the group started to design and sell their own brand of shirts. As their popularity and fanbase increased, they began to design stuffed animals, keychains, clothing and other "Nice Guy" apparel. 
As some may have noticed, Ted has not been seen in a lot of the recent Wong Fu videos. According to Phil in a recent interview with Vulcan Post, "Ted is currently in New York with his fiancée and he's just spending more time with his family and focusing on his personal life." however, he is still very much a part of Wong Fu Productions.[1]
Personal life
Edit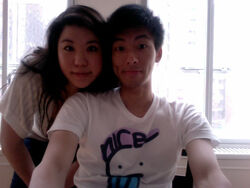 Ted is known for having a fondness for cats, and for eleven years, he had a cat named Pepper, whom he loved dearly. She was diagnosed with cancer years ago; in January, 2009, Pepper succumbed to her illness and passed away.
According to the comedic short Ted's Best Man Friend , Ted has known Wes for fifteen days longer than Phil.
He created the Wong Fu apparel website, areyouaniceguy.com
Ted has had grey hair since he was fourteen years old,[2] but dyed it black for many years. In 2012, he decided to stop dying his hair because he felt tired of the constant upkeep.
References
Edit
↑ Angry Asian Man interview with Ted Fu (http://blog.angryasianman.com/2010/07/angry-reader-of-week-ted-fu.html)
↑ Wong Fu Productions blog - Ted's Hair is Grey, Yes. (http://wongfuproductions.com/2012/03/teds-hair-is-grey-yes/)
3. Interview with Vulcan Post (
https://vulcanpost.com/493671/wong-fu-productions-how-to-be-relevant/
)